8K/4K Premium ALR Motorized in-ceiling Tab-tensioned screen is designed for integrated ceiling installations. It utilizes our black diamond ambient light rejecting material for superb performance with the lights on or off. The tab-tensioned material provides uniform flatness over the entire projection surface with superb color saturation, contrast and black/white dynamic range.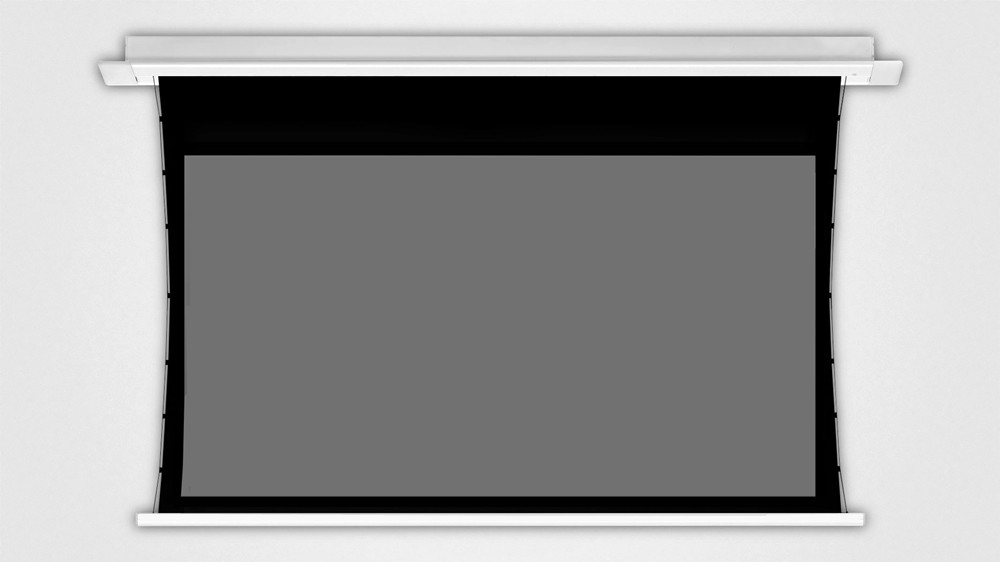 1. Product Name: 8K/4K Premium ALR 
Motorized In-ceiling Tab-tensioned projection screen
2. Screen material: ALR Black Crystal Ambient light rejecting 
3. Black masking borders enhance picture contrast
4. Disappearing recessed in-ceiling design for non-dedicated media rooms
5. Aluminum housing with piano white finish is strong and moisture resistant
6. Tab-tension cords provide uniform flatness on entire projection surface
7. Including IR& RF remotes, low voltage 3-way wall switch 
8. Standard 5-12V trigger to synchronize screen operation with the projector's power cycle
8. High qualified quiet tubular motor
9. Integrated ceiling projection screen ships fully assembled, ready to install
10. 5-Year manufacturer's warranty
11. ETL, FCC, CE & ISO9001:2008 Certified
12. AI Voice control is optional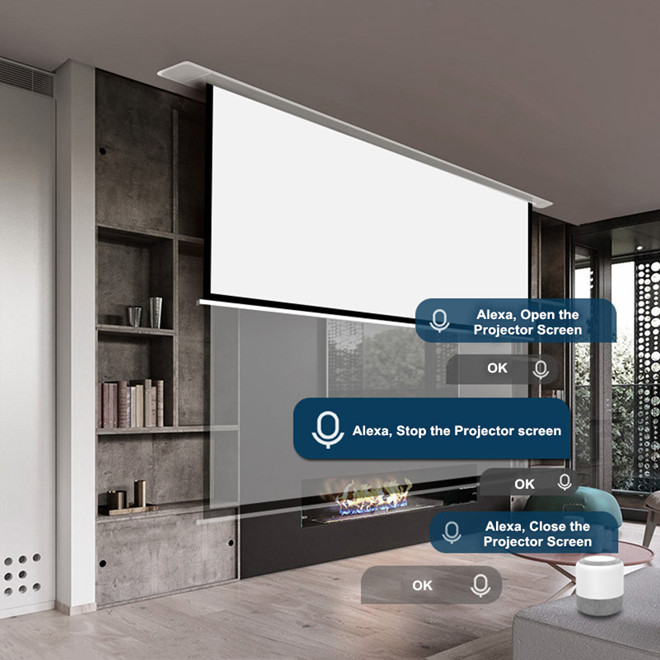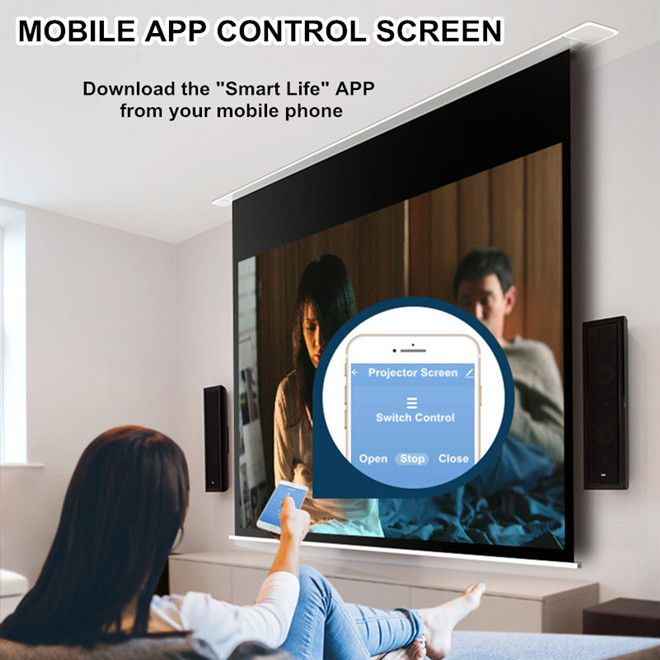 SCREEN MATERIAL SPECIFICATIONS
8K/4K Black Crystal ALR

  is an angular reflective front projection material designed to reject ambient light while maintaining superb picture quality. It is the perfect solution for rooms that have little or no control over incidental light. The 8K/4K Black Crystal ALR is superior to traditional white or gray materials in its ability to maintain a sharp, bright image regardless of ambient light.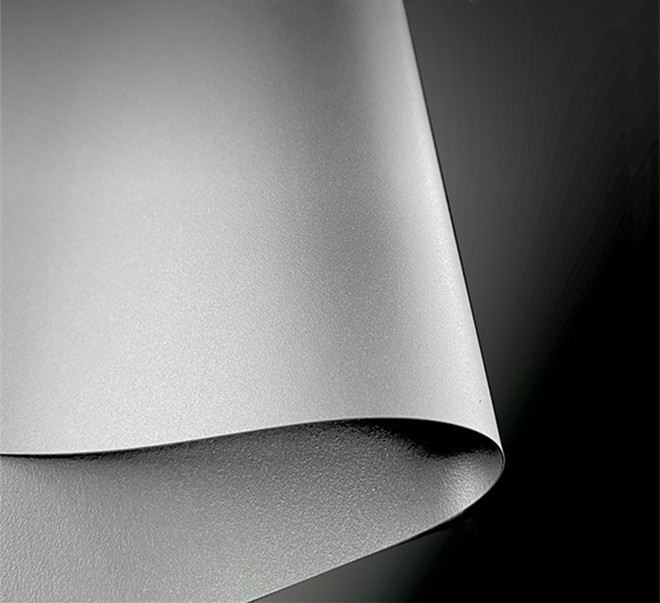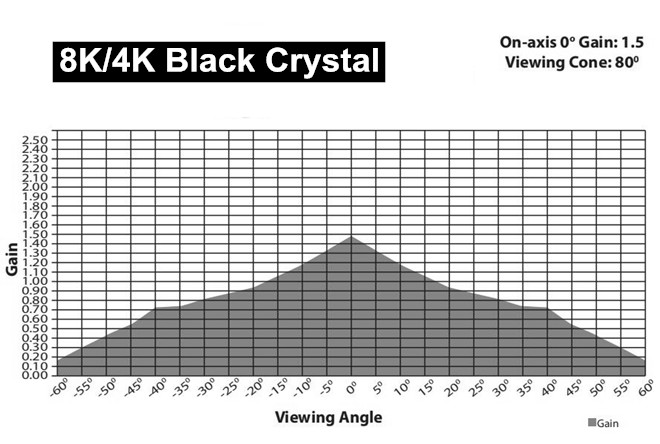 · High fidelity gray surface produces superb clarity and sharp images
· Viewing Angle: 80° (45° L/R) 
· 
88% polarization retention 
· Angular-Reflective front projection material with ambient light rejecting technology 
· Contrast enhancement over standard matte white surface 
· 8K/4K Ultra HD and Active 3D Ready 
· Polarized for Passive 3D applications
· 
Capable of improving brightness, color, and contrast under ambient light conditions
· 
Screen surface can be
 cleaned with mild soap and water
Projector Info
*Not compatible with ultra short throw projectors or edge-blending due to risk of hot spots
*Works best when the minimum throw distance is 1.5 times the width of the image
*The ambient light must never come from the same direction as your projector
*Install the projector so the projected light mirrors the reflected light with equal angles and is aligned at eye level for best results.
See your movies as they are meant to be seen
Experience the most vivid colors and crystal clear audio, on a projector screen that has been designed to transport you to another world. Hear every whisper, see every detail, and be swept away to another time and place, living a different life, even if it's only for the evening.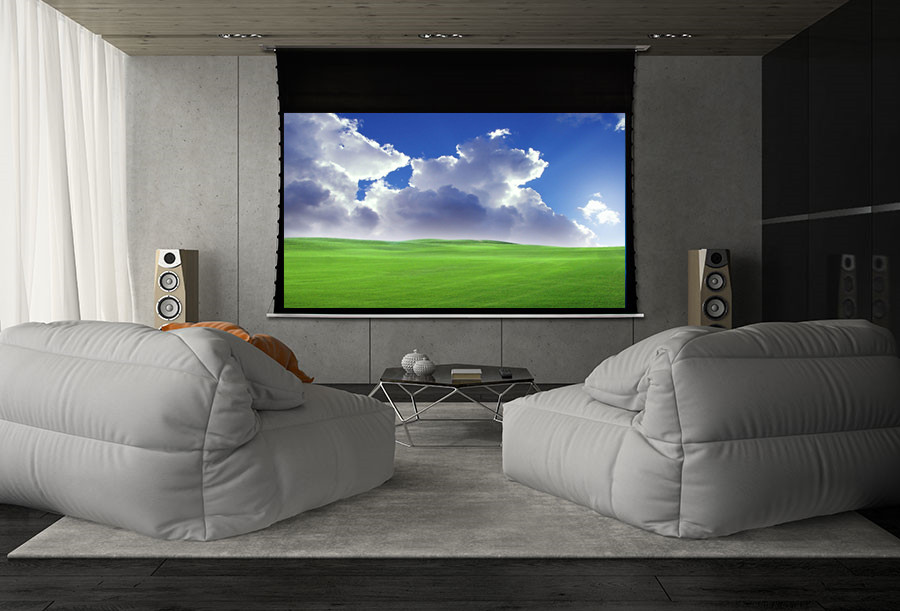 In-ceiling Installation for Ultimate Invisible Integration
Integrating your motorized screen into any room has never been so easy. Our all-aluminum casing and unique mounting solution allows you to place your screen flush inside the ceiling without hassle, and with no drywall patching required.  The screen can be mounted using a variety of methods, including steel rods, aircraft cables, or by direct bolt-on method.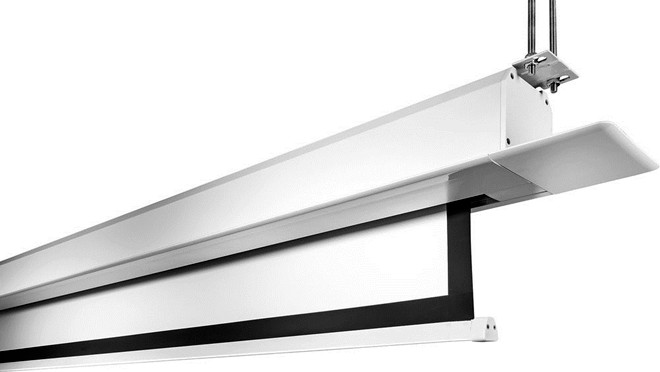 Smooth Projection Surface with Pure-Flat Technology
Creased and wrinkled screens are a thing of the past with our Pure-Flat Tensioning System. It involves two tensioning stages: first we've added a heavy-duty steel weight bar at the bottom which provides vertical tension of the screen. The second stage uses tabs held under tension by aircraft cable at each side, providing horizontal tension. Together, this ensures a smooth surface, preventing curling and delivering a wave-free screen for years to come.

Control Systems
• Internal Radio Frequency/Infrared receivers with IR, RF remotes included 
• Low voltage 3-way wall switch 
• Standard 5-12 volt trigger to synchronize screen operation with the projector's power cycle
• Programmable Central control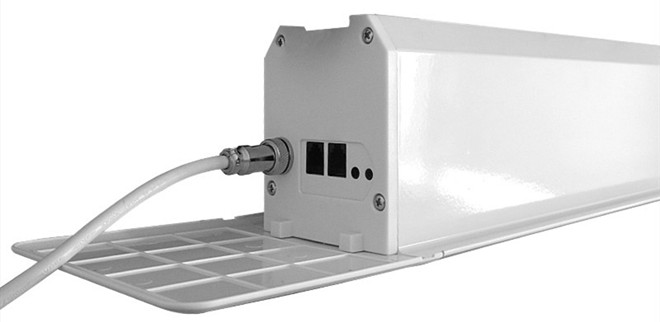 Remotes and Wall Control Panel
The In-Ceiling series comes with wall control panel, 110V/220V outlet plug, as well as two remotes – one IR and one RF remote control. This ensures our screens can be operated under a variety of situations with the upmost ease. Furthermore, the 110V/220V plug means you can get our screens up and running quickly and easily.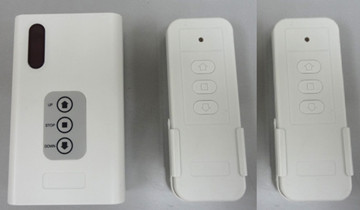 Seamless Integration with your Smart Home System
Your home automation system controls everything around your house, so why should your Home Theater be any different. By including a motorized screen into your household you will be able to manage and control everything from your favorite control system. Our motorized units feature a conventional 12V trigger that can be used on other devices as well.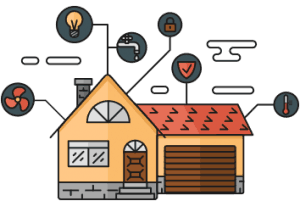 Enjoy the Benefits of Precision Engineering
The screen material is rolled onto a large diameter roller tube, making the screen surface flatter, as there is less curvature in the material when it is rolled up, versus the much smaller roller tubes commonly employed by most other screen manufacturers. It ensures that the screen surface is wrinkle-free and without any distortions to create the ideal surface for the movie to be projected upon.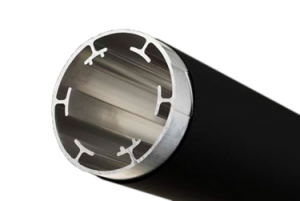 Easy Access to Motor and Controls
The In-Ceiling screen features an easy to remove screen panel, allowing you to access the screen material and the motor without removing the housing. This means that you will absolutely never have to remove the housing from the ceiling, whether you need to modify/change the motor settings, install a 12V trigger or adjust the drop limits of your screen.

Limit switches are located on the left side of the screen and inside the housing. The limit switches should only be adjusted with the provided adjustment tool.
The limits that are set determine the point where the screen 
will stop lowering or retracting. By initially adjusting the lower 
limit, the screen will stop at the perfect location automatically 
for maximum convenience.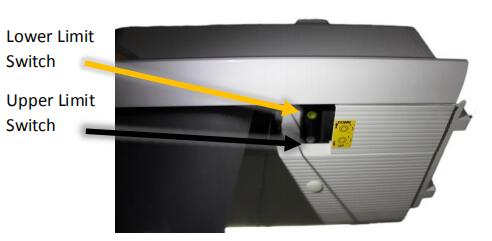 The upper limit switch is grey and does not need to be 
adjusted as it is pre-set from the factory. If absolutely 
necessary, turning the grey upper limit switch counter
clockwise will cause the upper limit to be closer to the 
housing and clockwise will make the upper limit further away 
from the housing. 
The lower limit switch is yellow and can be adjusted for 
increasing or decreasing the amount of upper black drop on 
your screen.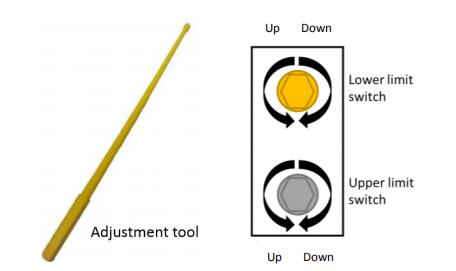 To decrease the amount of black drop, first lower the screen 
and turn the yellow lower limit switch clockwise twice. 
Retract the screen then lower the screen again and where it 
stops is the new lower limit. Repeat until the desired height is 
reached.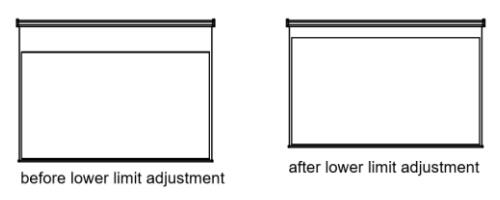 The first time the lower limit is being adjusted, it may take a few cycles for the screen to move up. This is normal and be patient as to not damage the screen. If the screen pauses during adjustment, wait 5 minutes for the motor to cool and continue adjusting. 
To increase black drop, lower the screen so it is fully 
extended. Using the adjustment tool, turn the yellow limit 
switch counter-clockwise and the screen will drop in small 
increments without needing to cycle the screen. Continue 
rotating until the screen is in the desired position.

ADJUSTING THE TENSION CORD
The tension cord keeps the screen flat and under a moderate amount of tension horizontally. If the projection screen has ripples, then the tension cord may need to be adjusted. Wait 10 minutes with the screen extended and if the ripples are still present, then follow the steps below to adjust the tension cord. The tension cord is loosened when turned counter clockwise and tightened when turned clockwise. Slowly tighten the tension cord with the adjustment tool. If the ripples worsen, loosen the tension cord. A moderate amount of tension is ideal.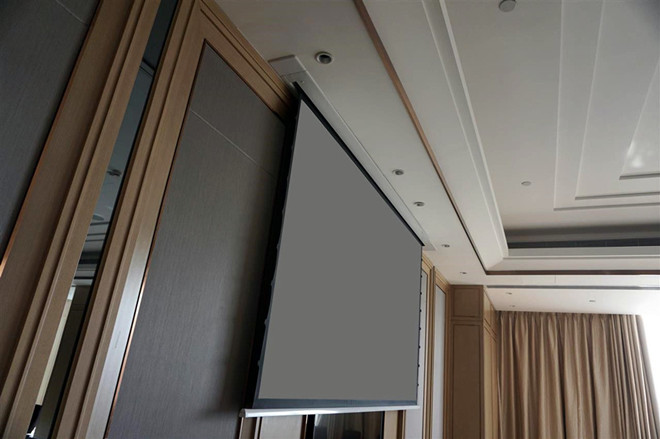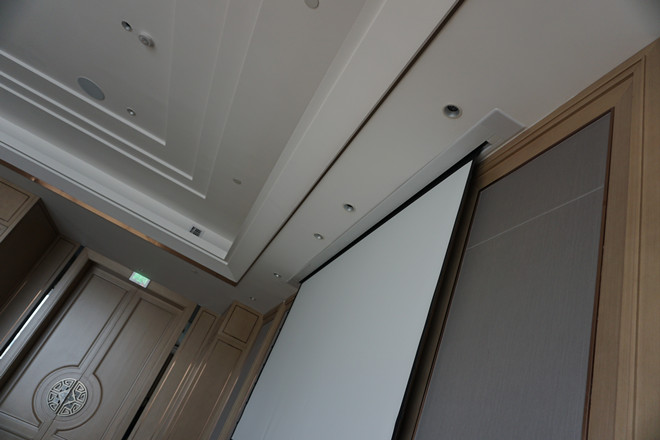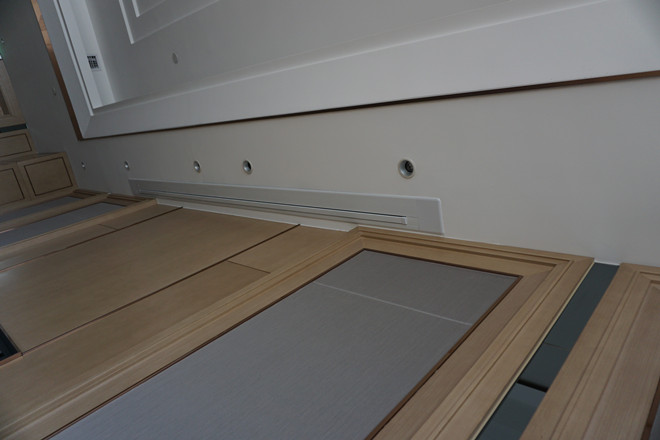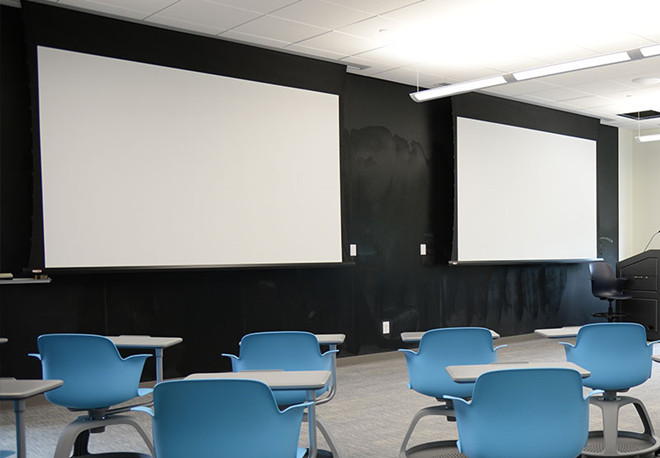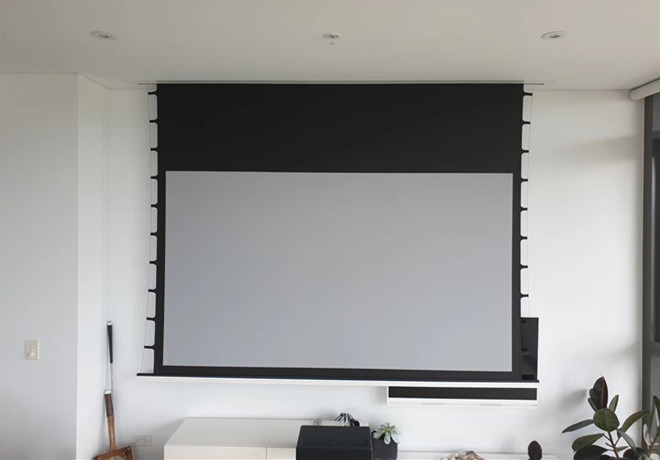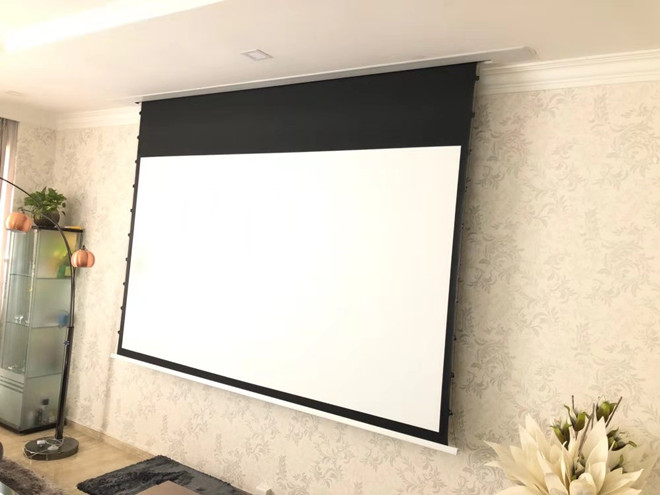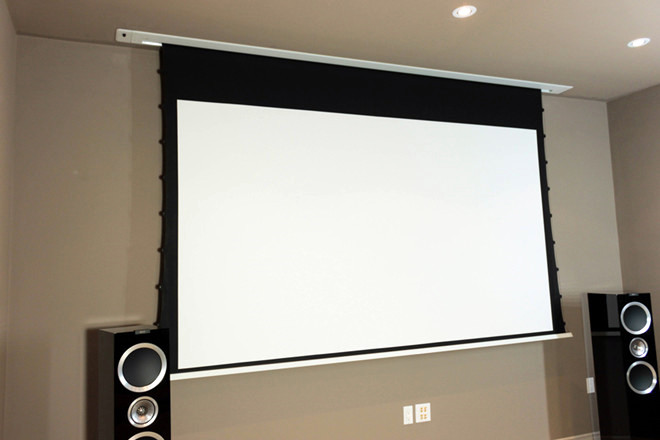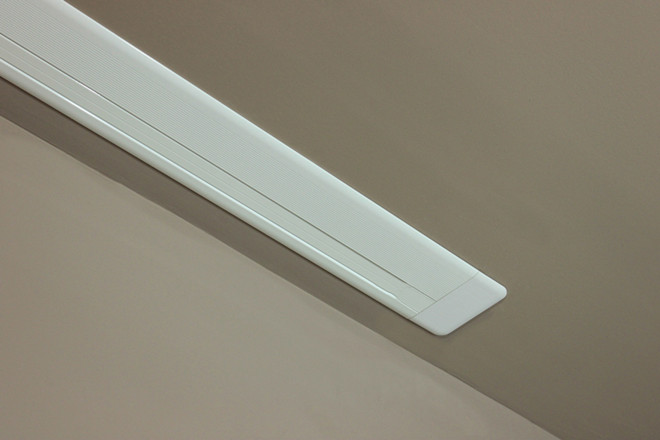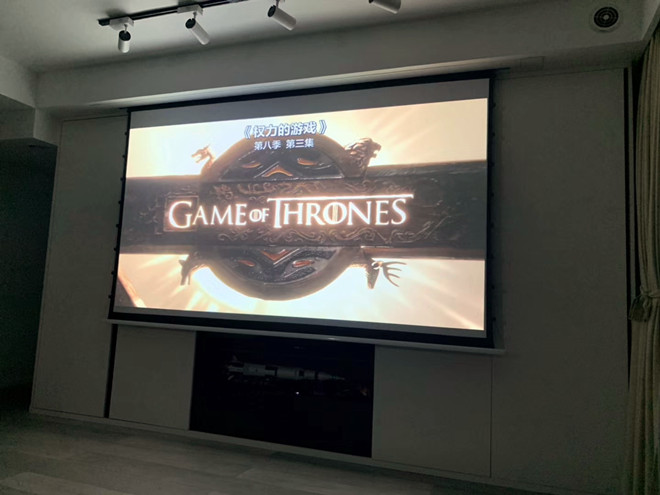 What is the Right Aspect Ratio / Format for you?

--- 1:1 Square Format: This aspect ratio provides a perfectly squared screen format for overhead projectors (OHP) and is commonly used in Educational/Classroom environments.
Tip: Choose this format if you are using a native SVGA/XGA Projector and occasionally use an OHP or 1:1 slide projector for your presentations.
--- 4:3 Video Format: This aspect ratio is the same as a standard television (Non-High Definition) or computer (SVGA, XGA, UXGA) resolution.
Tip:Select this format screen if you are using a native SVGA, XGA or UXGA projector for your presentations.
--- 16:9 HDTV Format: This is the High Definition Television (HDTV) format and is the most widely used aspect ratio for the latest television designs.
Tip: Choose a 16:9 Projection Screen if you are planning to use it with a native 16:9 format projector.
--- 16:10 PV Widescreen: This is the most popular aspect ratio for the latest WXGA or WUXGA notebooks.
Tip: Choose the 16:10 screen if you use a native wide screen notebook or wide XGA (UXGA) projector.
--- 2.35:1 Widescreen Cinemascope format: This is perfect with the new anamorphic lenses on the market today.
Tip: Select this 2.35:1 format screen if your application is strictly home theater Cinemascope presentations. 2.35:1 and 16:9 are the most popular format for Home Cinema. 
SIZING AND SPECIFICATIONS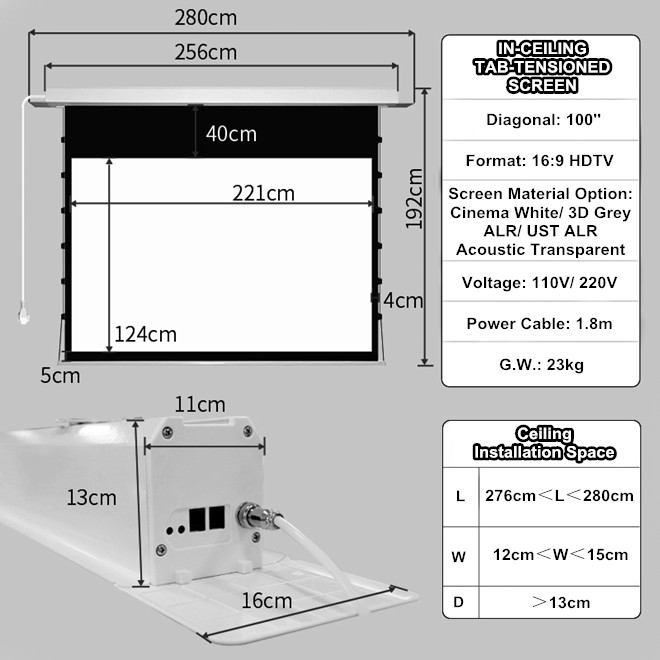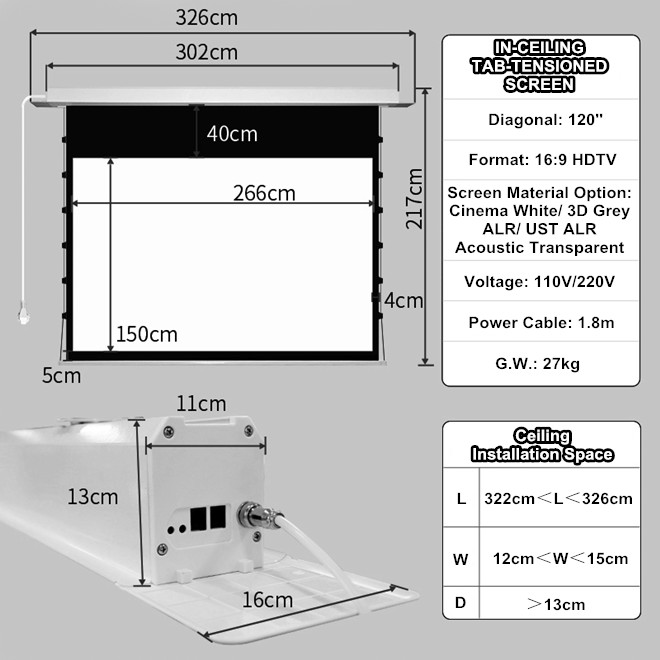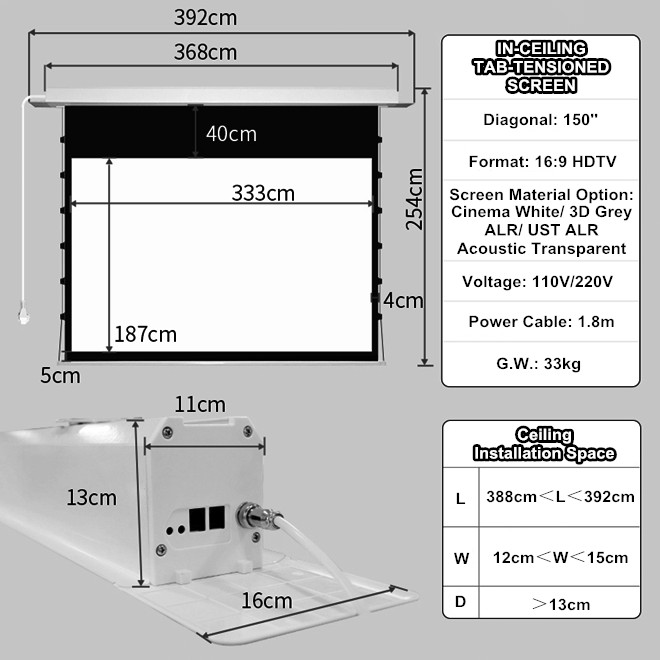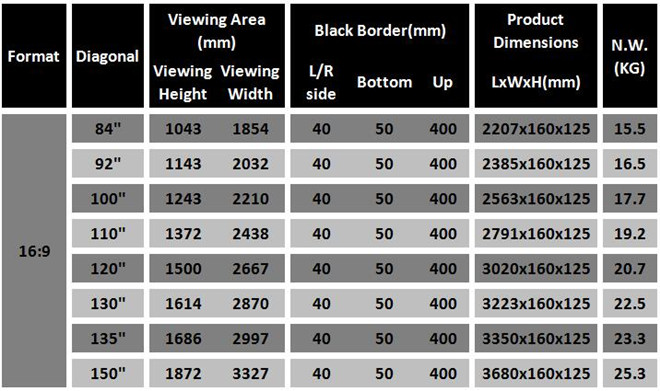 1. The dimensions provided are the mean values of the production units. Very slight deviations may be possible. Due to continuous technical improvements, we reserve the right to change design and specifications without prior notice. 
2. We can customize the size as per your request.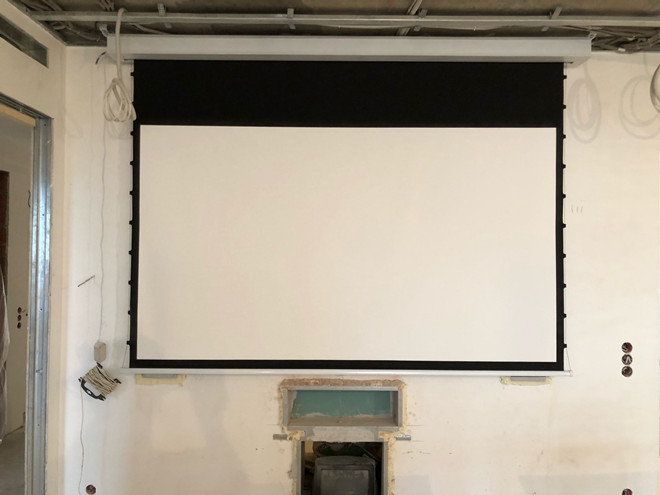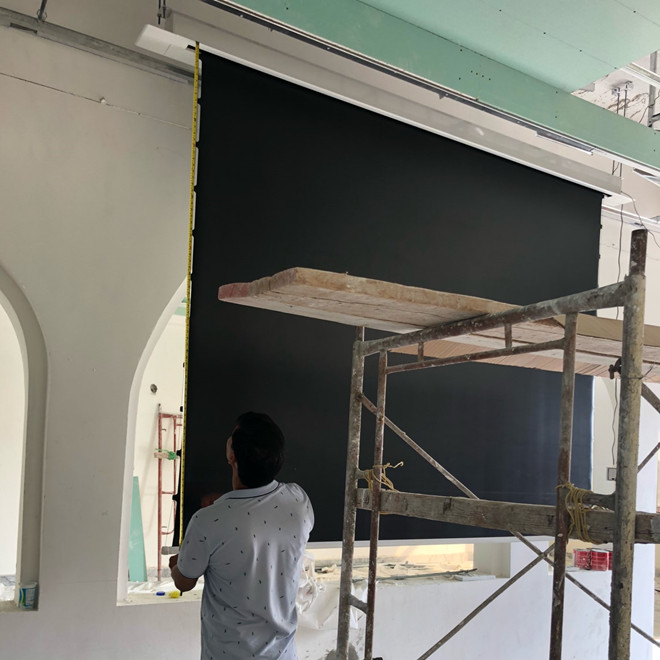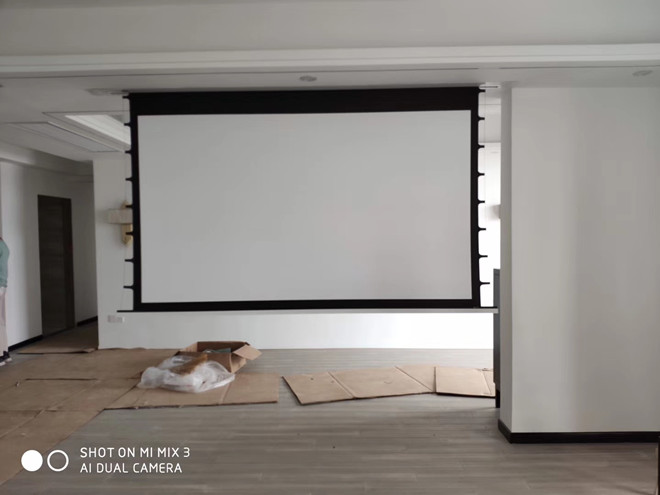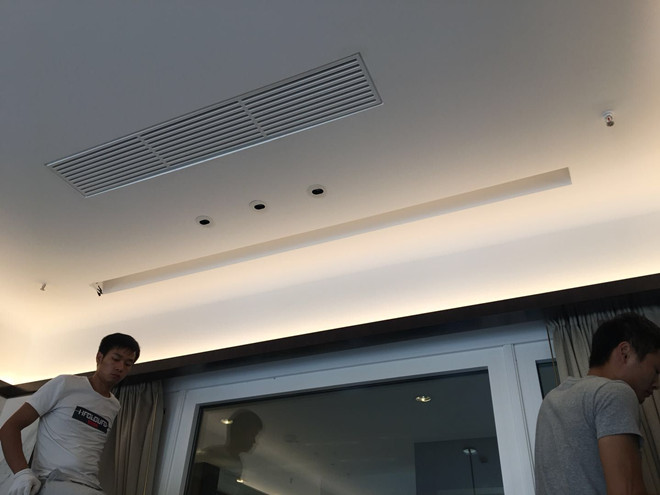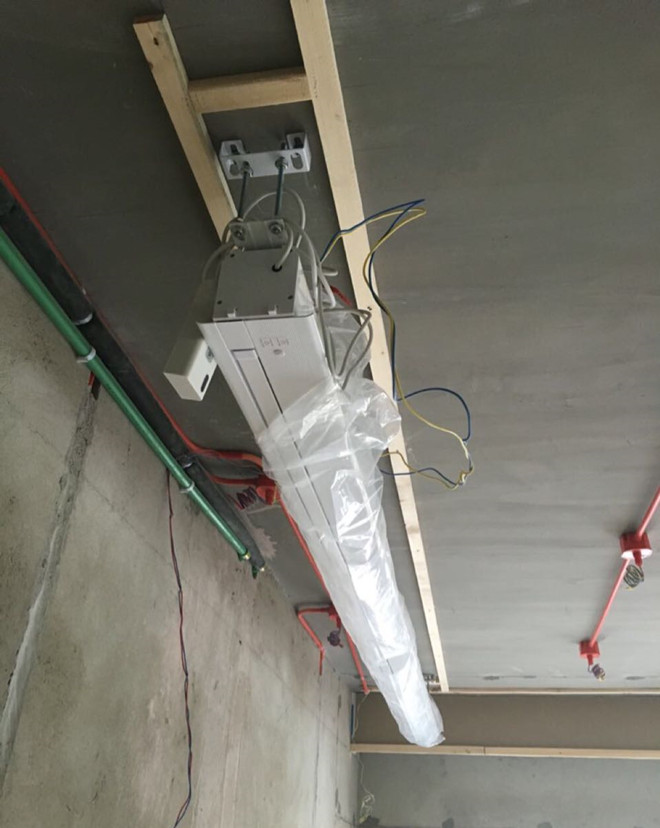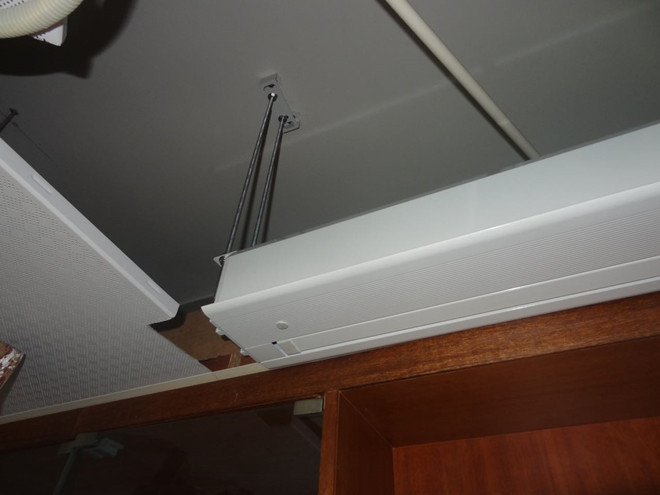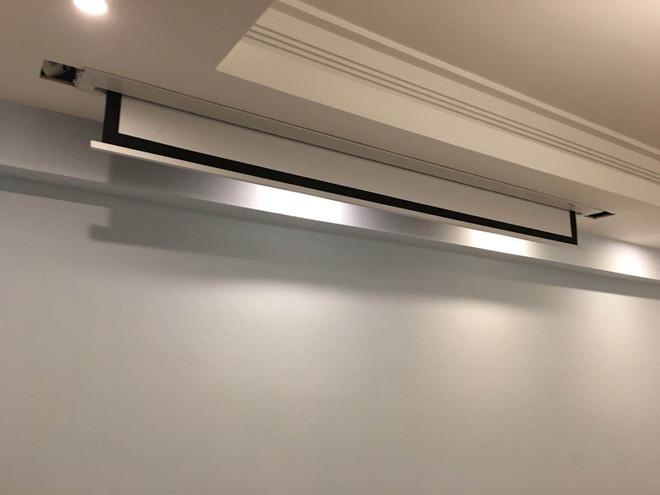 PACKAGE  
Screen Material Maintenance Care
1. Materials needed: 2 Lint-Free white cloths, Mild Soap (hand soap is suitable) and Water. 
2. Take the Lint-Free cloth and submerge it in warm water for cleaning light dust and dirt. For stubborn stains or a sticky surface, a solution of mild dishwashing liquid diluted with warm water should be used. 
3. Completely ring out cloth so it is lightly dampened, not drenched. 
4. Using the damp cloth, lightly wipe in an up and down motion starting at the left of the screen moving to the right of the screen. DO NOT WIPE IN CIRCULAR MOTION. 
5. Once you have completed wiping the entire screen with a dampened Lint-Free cloth, use the dry Lint-Free cloth to wipe 
off any excess water from the screen.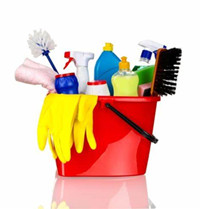 **If heavily soiled (marked permanently): You may use alcohol with a Q-Tip to clean. 
1. Dip one side of the Q-Tip in Alcohol
2. Gently wipe marked spot ONLY.
3. Use dry side of Q-Tip to go over mark to dry it. 
4. You may wipe over with dry Lint-Free Cloth to finish.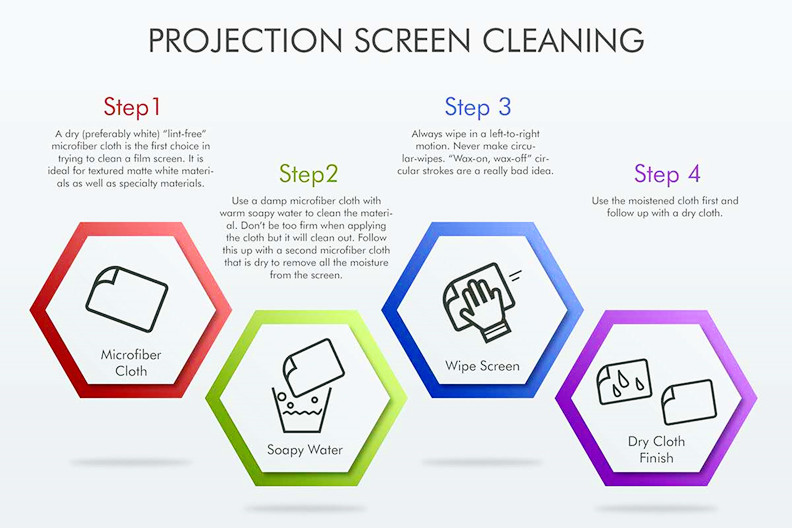 PRODUCT PROCESS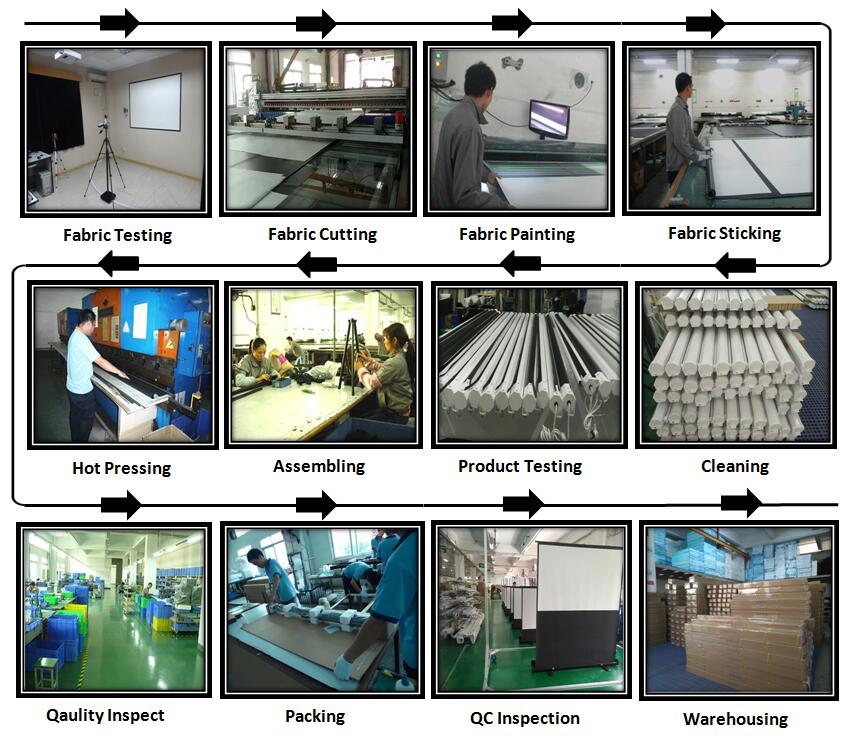 CERTIFICATIONS

ABOUT SHIPPING  
1. Please write full name! Especially for Russians and Latvia.
2. Please make sure your shipping address, post code, phone number is 100% correct.
3. Each item has the real box package, we'll try our best to pack well to prevant damage during transit.
4. We usually declare low price on the invoice to help you reduce the tax, but the buyer need to take the responsibility for tax or VAT duty charged by your country.
5. If you have any special demand about custom invoice value or your country custom requirement, please leave an order message to us.
6. Since it is free shipping, we will choose the shipping method according to the acutal situation. Please confirm before purchasing with thanks.
AFTER-SALES  
1. If the item is defective when it arrive at your county, you have 7 days from the date of receipt to exchange for a new one or get compensation, but we just pay one-way shipping freight from China to your country. Before ship it back, pls let us know at first. Also please offer valid proof of the quality problem.
2. If you really don't like the product once you receive it, you can send it back to us with full original packing, and we just refund you the cost of the item(please note:not including the freight). You have 3 days from the date of receipt to return it.
3.The warranty is not available once the items are damaged by improper use.
4. Please check the parcel carefully when you receive it, if you find the parcel is damaged or the device is broken, pls refuse to sign the parcel and contact us immediately.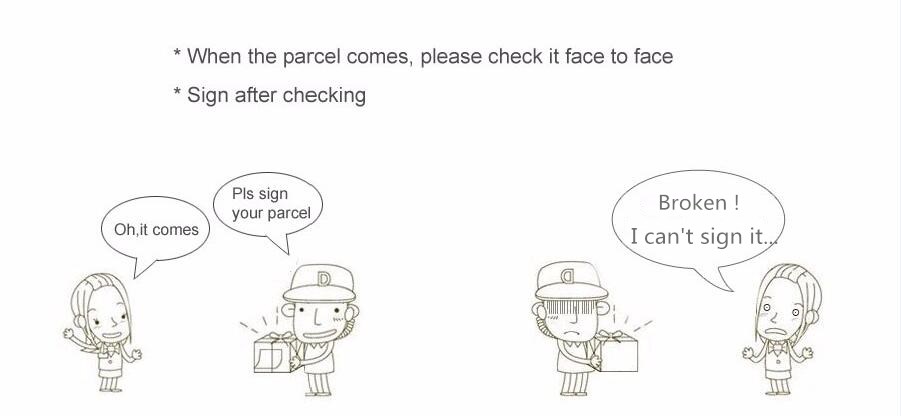 ABOUT FEEDBACK 
If you have any other questions, please contact us in advance, we will try our best to help you solve it at first time. 
Also, if you are satisfied with the product after you receive and check it, please give us a 5 star feedback, which will help other people know the product more.
Appreciate your kind feedback and support.
 FAQs 
1. When delivery the product after ordering?
    We will send out it within 5-7days after payment. 
2. When the tracking information updated ?
    We will send you the tracking number once your parcel was sent out, and the tracking information is always updated within  3 days
3. If i cancel the order, when can i get my refund ?
    The money you paid is holding by AliExpress,  you will receive your full refund from AliExpress within 3-15 days after you canceling your order successfully.
4. Can you customize for me?
  Yes, we can customize for you as per your request. If you have any special demand, please leave message to us. We will try our best to make your satisfied with our workmanship.